Chase The Racing Line
Niall Mackenzie and the R NineT Racer
The BMW R nineT Racer is one of the most instantly recognisable bikes in the BMW Motorrad Heritage family. Clearly taking inspiration from the superbikes of old, the Racer transports you back to relive that legendary superbike era. But the Racer is more than just good looks.
Our team at BMW Track & Training have brought on a fleet of R nineT Racers to show Motorrad fans and customers just how versatile the bike is. With low-slung and tight handlebars and a powerful boxer engine, the R nineT Racer is as comfortable on track as it is on sweeping mountain roads.
Not much work was needed to turn the Racer into a track weapon, a simple exhaust modification and the removal of the rear-view mirrors and number plate were all the was needed. It was then time to take the Racer back to its natural home: the track. And who better than former Grand Prix star and BSB Championship Niall Mackenzie to push the bike to its limit.
+ Read more
"
"If stopping fellow bikers in their tracks to check out your machine is your aim, then the BMW R NineT Racer won't disappoint. Within minutes of wheeling our bike into the pit lane at Donington we attracted an instant crowd admiring this retro racer" "
After a couple of laps to ensure everything was up to working temperature, Mackenzie began to push the Racer and harder – getting his knee down at every corner within only a handful of laps." The riding position is low and somewhere between cruiser and racer but comfy at the same time. On track it is great fun with the super refined and surprisingly high revving boxer twin engine delivering smooth power with a slick six speed box."
The riding position and manageable, yet exciting, 1,170cc Boxer engine make it an excellent bike for track riders of all experience levels. Easy to use power makes it ideal for beginners, while experts can hone their lines and focus on improving their positioning.
+ Read more
"The bright colours and styling work for me as does the classy finish and quirky dash which includes a useful gear indicator," continued Mackenzie, impressed by the usability of the instruments and technological features of the bike.
Mackenzie, who spent almost a decade wrestling wild 500cc Grand Prix bikes, knows what how to get the most out of any motorcycle but not too much work is needed to make the R nineT Racer fly around Donington: "It has a stable positive feel, and I enjoyed my laps and pushed hard enough to see 135mph on the speedo and feel the ABS kicking in during hard braking."
+ Read more
BMW Motorrad ABS is fitted as standard on all R nineT Racers, not just the fleet used by Track and Training. This allows riders to feel confident and safe while pushing hard out on track, or in emergency situations out on the road.
After his laps, Mackenzie was left pleasantly surprised by the Racer: "A truly eye catching modern bike that takes you back to the good old days." It might not be able to keep up with the purpose built BMW HP4 RACE for more than a couple of corners, the Racer offers a unique throwback track experience for riders looking to relive the era of the Continental Circus or those looking to see what a classic superbike is like with the latest and greatest technological innovations and aids applied.
+ Read more
The design of the R nine T Racer
Half shell in typical Racer look.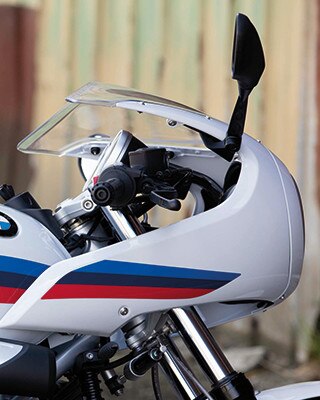 Tape in typical BMW motorsport colours.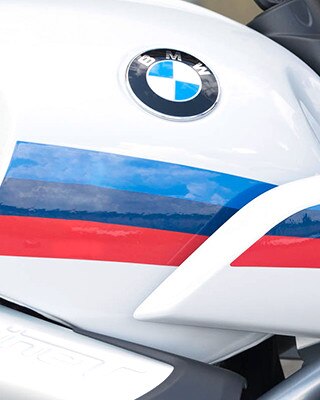 Speedometer and rev counter.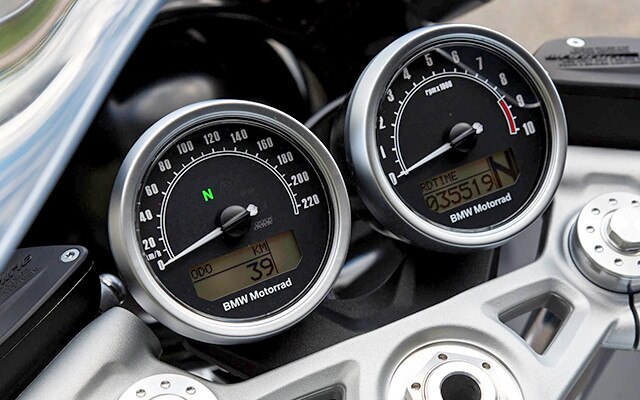 Racing seat hump with small stowage compartment.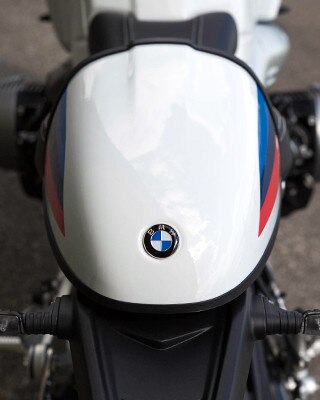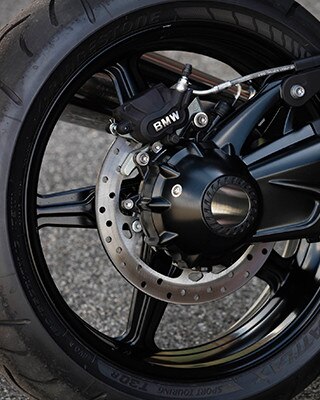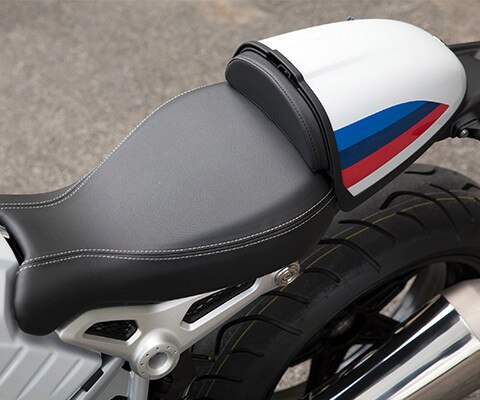 "nineT" logo on air inlet.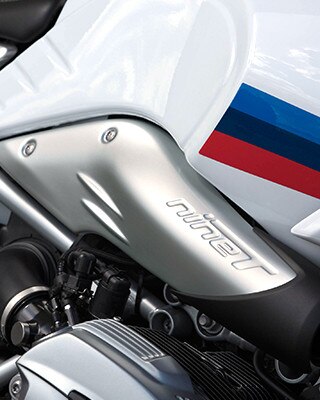 Stainless steel exhaust system