Hickman and Laverty are dancing on ice!
Snowquake 2018 - Riva Valdobbia, Italy
BMW Motorrad UK backed racers Peter Hickman and Michael Laverty took a break from their pre season training schedules to compete at Snowquake 2018.
Tucked away in a snow-filled valley in the Italian Alps, Snowquake is as unique as it is challenging. Riders compete on sheet ice, on a range of bikes from vintage to specialist machinery designed specifically for the job. Unlike traditional dirt track racing on an oval circuit, Snowquake consists of left and right turns, elevation changes and a 90mph back straight.
Both riders were looking forward to riding the BMW R nineT Urban G/S. Completely stock aside from the addition of spikes drilled into the tyres, all the riders had to do was switch off the ABS and the traction control before lining up to race. 
+ Read more
Speaking after the first practice, Smiths Racing BMW rider, BSB race winner and Isle of Man TT fastest newcomer Hickman was smiling, despite the all-new conditions. "I've never ridden on ice, let alone raced on it. Getting a feel for the bike was easy, power delivery is smooth and the bars wide enough to give me loads of control. The hardest thing for me is getting my head around the fact we're riding on sheet ice. I'm having  fun out there, there's no pressure to perform and it's nice to find a motorcycling discipline that I can enjoy without thinking about the need to be flat out everywhere."
+ Read more
BSB race winner and Tyco BMW rider Michael Laverty looked comfortable on the 110 horsepower Urban G/S, immediately looking to find more pace. "The idea of riding a bike on a track that you couldn't stand up on seemed crazy, I couldn't say no. We definitely needed more spikes in the standard tyres though, things improved once Peter and I had drilled a few more in, but one look at the amount of spikes the guys at the front were running showed that we wouldn't be winning any races today. It was great fun holding the Urban G/S sideways in a corner, I can see the appeal and am sure if I had an ice rink in my garden to practice on, I'd have been able to go as quick as the guys at the front."
+ Read more
R nine T Urban G/S Highlights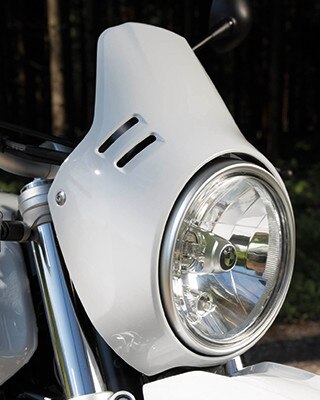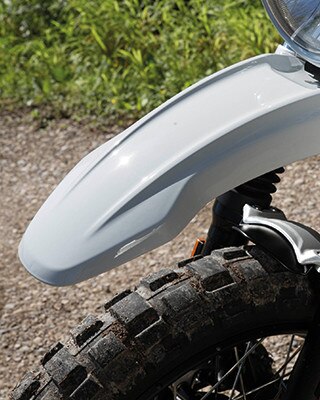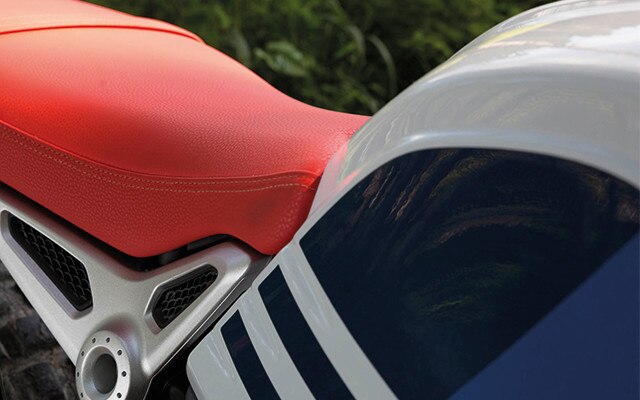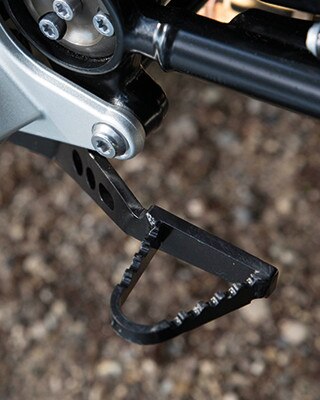 Large 19-inch front wheel.