F 800 GS Adventure
From £10,000*

*The price shown is a non-binding recommendation of the manufacturer including 20% VAT and excluding transfer costs. Modifications and mistakes reserved. If you have any questions, please speak to your BMW Motorrad Retailer.
All motorcycles are supplied only with equipment required by law (e.g. reflectors as per Euro 4 standard). BMW Motorrad UK reserves the right to alter prices and specification without notice. BMW Motorrad UK has made every effort to ensure the accuracy of information but does not accept liability for any errors or omissions. Actual configuration may differ slightly in appearance to images shown.
The BMW F 800 GS Adventure.
Adventure: boundless.
No matter how far the journey takes you - and no matter what terrain you cover: With the BMW F 800 GS Adventure you'll survive every adventure. This travel enduro is designed for real globetrotters for whom no destination is too far - those who are out to conquer the world beyond familiar roads. The F 800 GS Adventure: the reliable and rugged companion for limitless adventure.
F 800 GS Adventure
F 800 GS Adventure TE
Specification.

 Available in: Racing Blue Metallic or Racing Red Matt

• BMW Motorrad ABS

• LED Rear Light

• Spoke Wheels

• Pannier Fastenings

• Ride-By-Wire

• Riding Modes Rain and Road

£10,000


Specification.

Available in: Racing Blue Metallic or Racing Red Matt

• ASC

• BMW Motorrad ABS

• Main Centre Stand

• Pannier Fastenings for Aluminium Cases

• Heated Grips

• LED Additional Fog Light

• Off Road Mode ABS & ASC

• On-Board Computer

• Ride-By-Wire

• Riding Modes Pro Enduro / Enduro Pro (in addition to Rain and Road)

• Electronic Suspension Adjustment

• LED Rear Light

• Spoke Wheels

• Choice of either On-Road or Off-Road Tyre

£11,300


 
The design of the F 800 GS Adventure
Choose your style.
With the Rallye style, you can give your F 800 GS Adventure's character a bit of added bite.
BMW Motorrad Insurance Solutions.
BMW Motorrad Insurance Solutions.
BMW Motorrad Insurance is designed just for BMW riders, giving you peace of mind when you're out on the open road.
+ Read more
The F 800 GS Adventure is every inch the globetrotter – from the high windscreen right through to the combined tank bracket and case holder. In spite of its striking side trim and the larger fuel tank, the characteristic flyline of the F 800 GS Adventure reveals its kinship at first sight. Details such as the galvanised cooler cowling with GS logo in the new stencil format or the GS inscription on the matted windscreen highlight this look. Whether in standard non-metallic Catalano grey or the Rally style variant in racing red matt: this enduro lets you know that it's out to conquer the world.
+ Read more
Two-cylinder in-line engine
63
kW (85 HP) at 7,500 rpm
24
litre fuel tank capacity
Water-cooled, four-stroke twin-cylinder engine
Performance: uncompromising.
Performance: uncompromising.
Powered by the dynamic parallel twin engine with an output of 63 kW (85 bhp), the F 800 GS Adventure has no problem whatsoever leaving civilisation far behind it. With a torque of 83 Nm at 5,750 rpm, this enduro bike has sufficient reserves to supremely tackle any off-road challenge - however remote the location. The Ride-by-Wire system allows the rider to control the accelerator more finely. With a fuel tank capacity of 24 litres and a fuel consumption of 4.3 l per 100 kilometres, it covers distances others would be forced to give up on.
+ Read more
Experience the sound of the F 800 GS Adventure
The highlights of the F 800 GS Adventure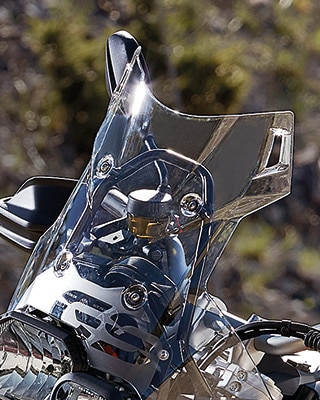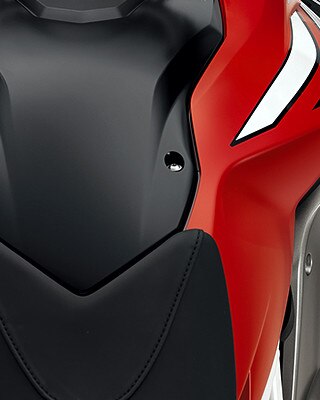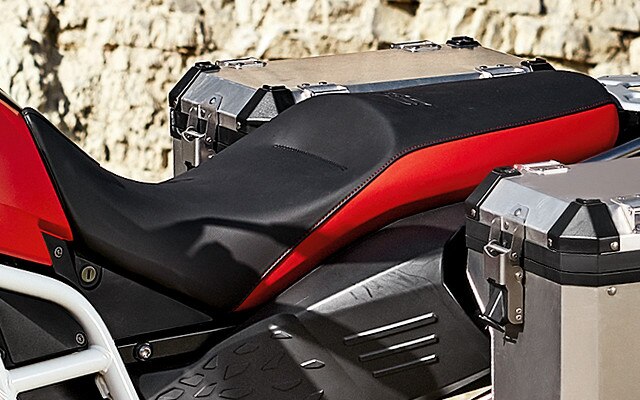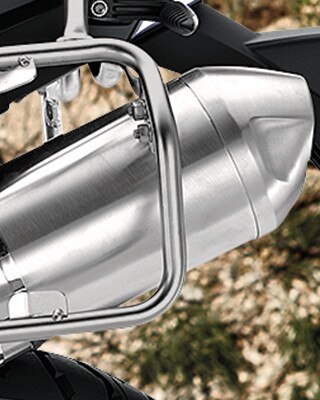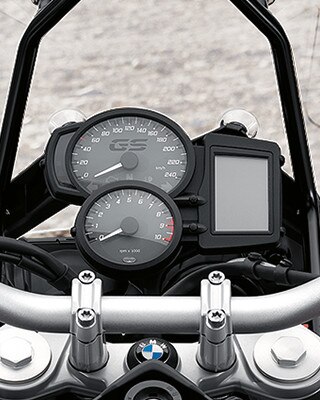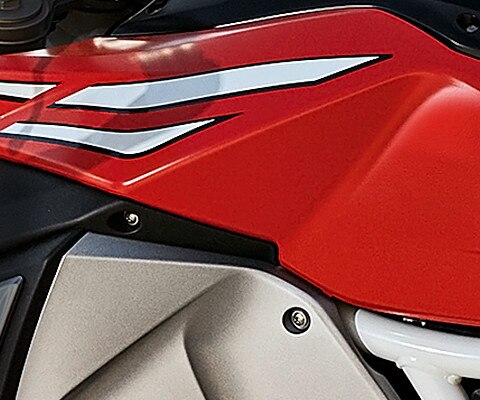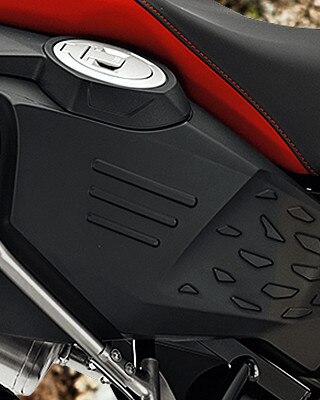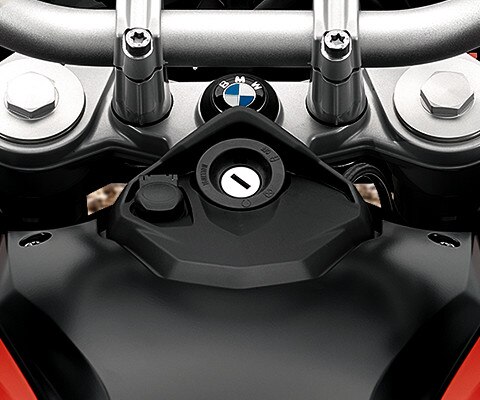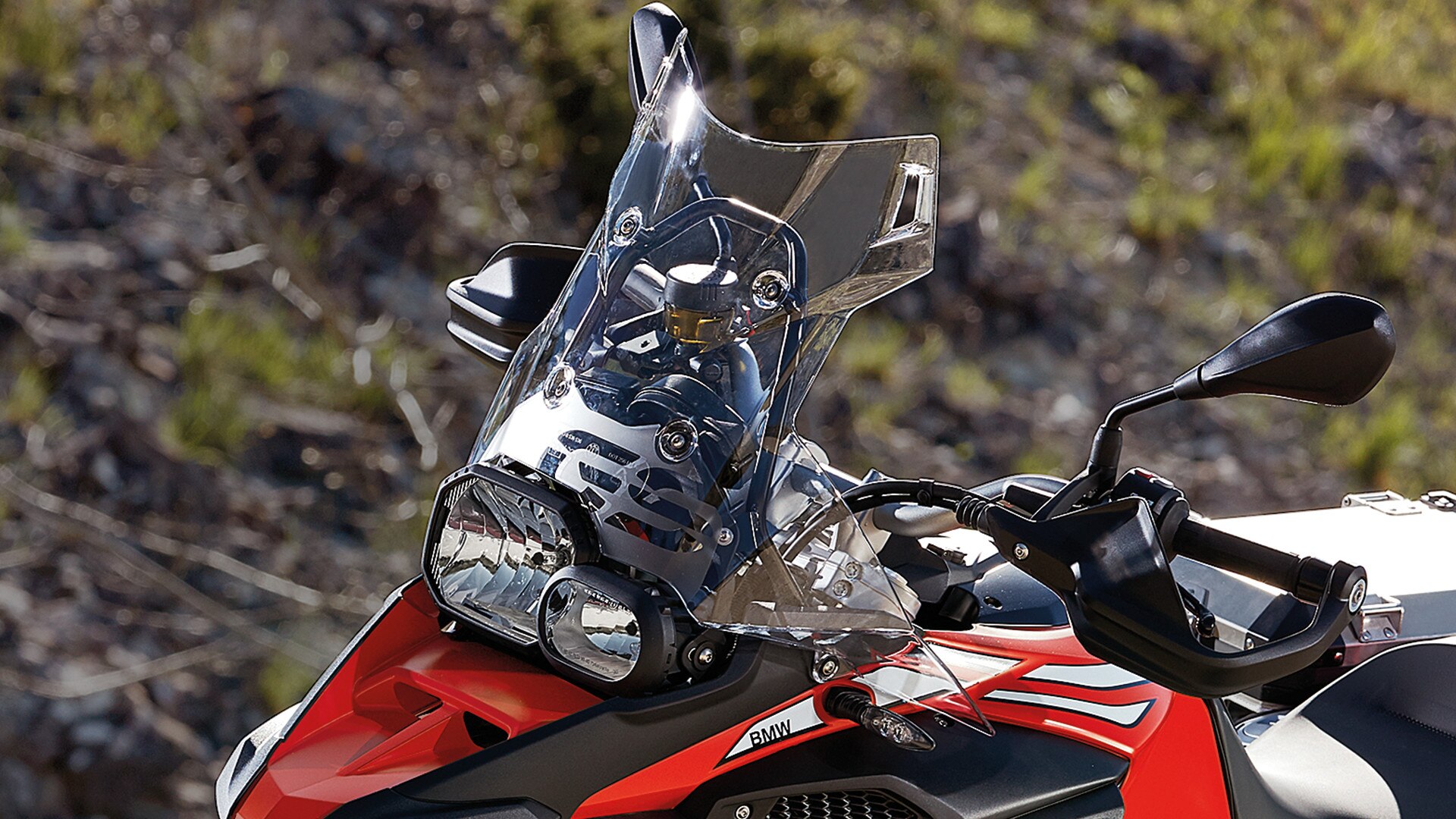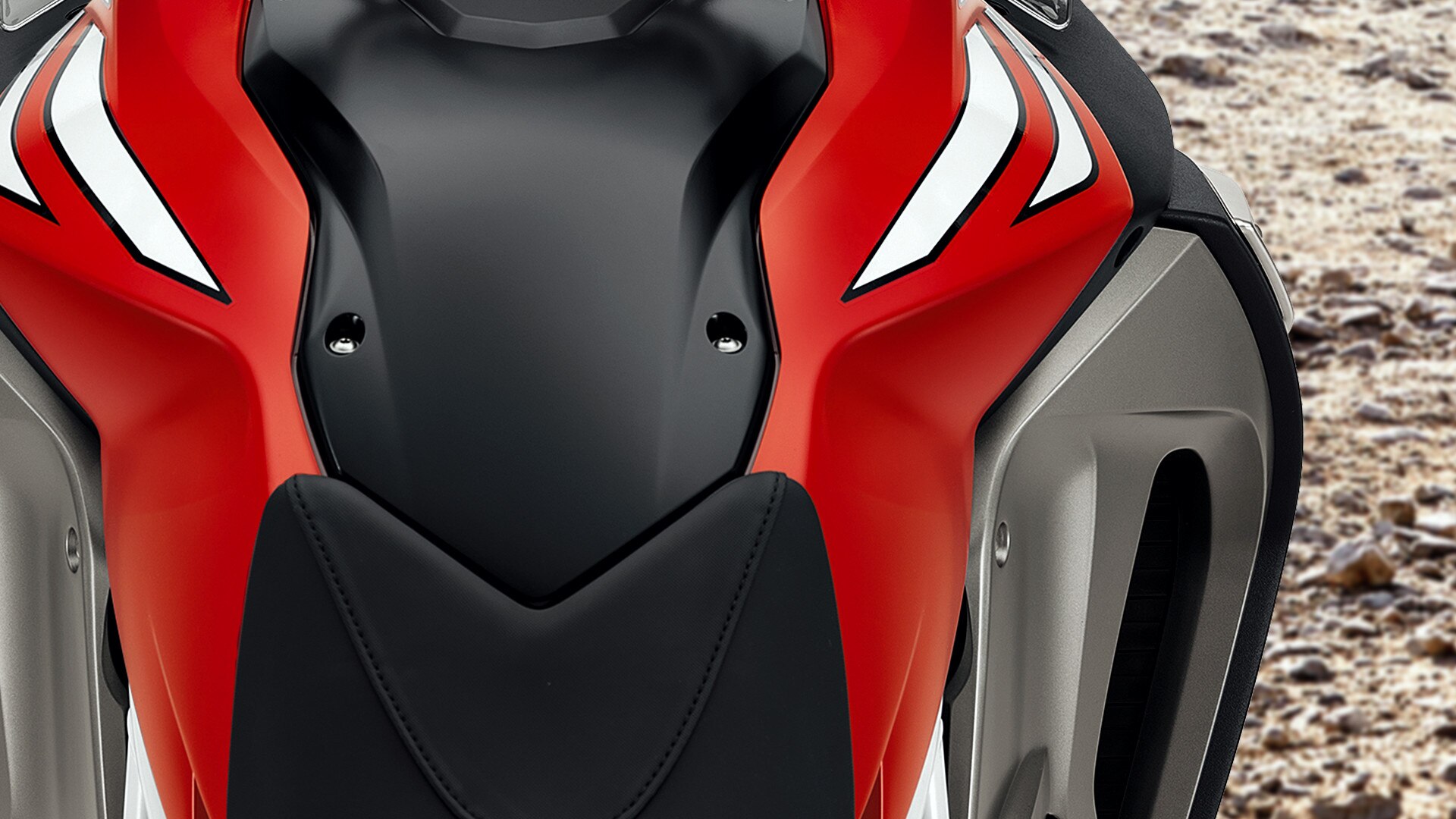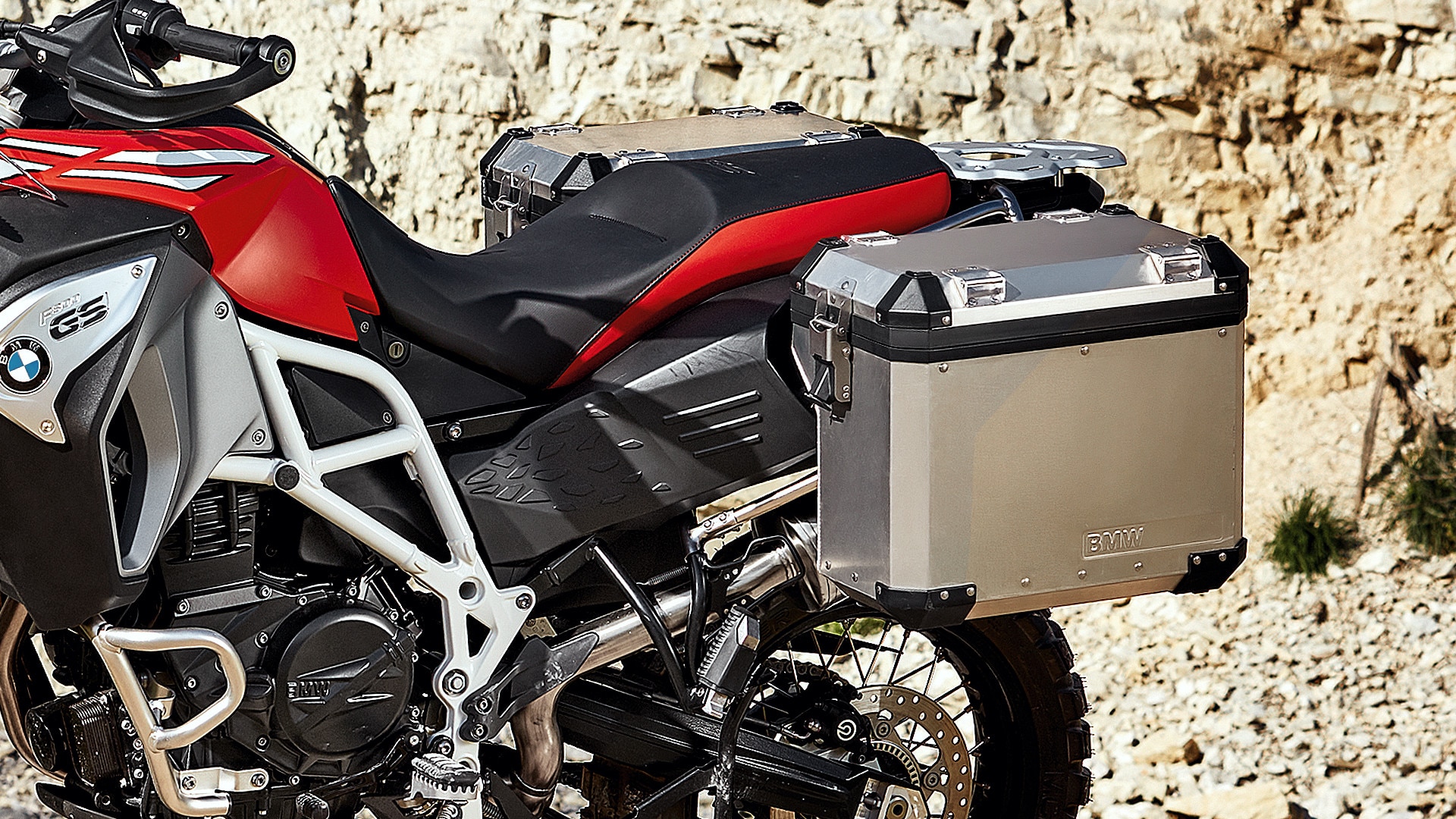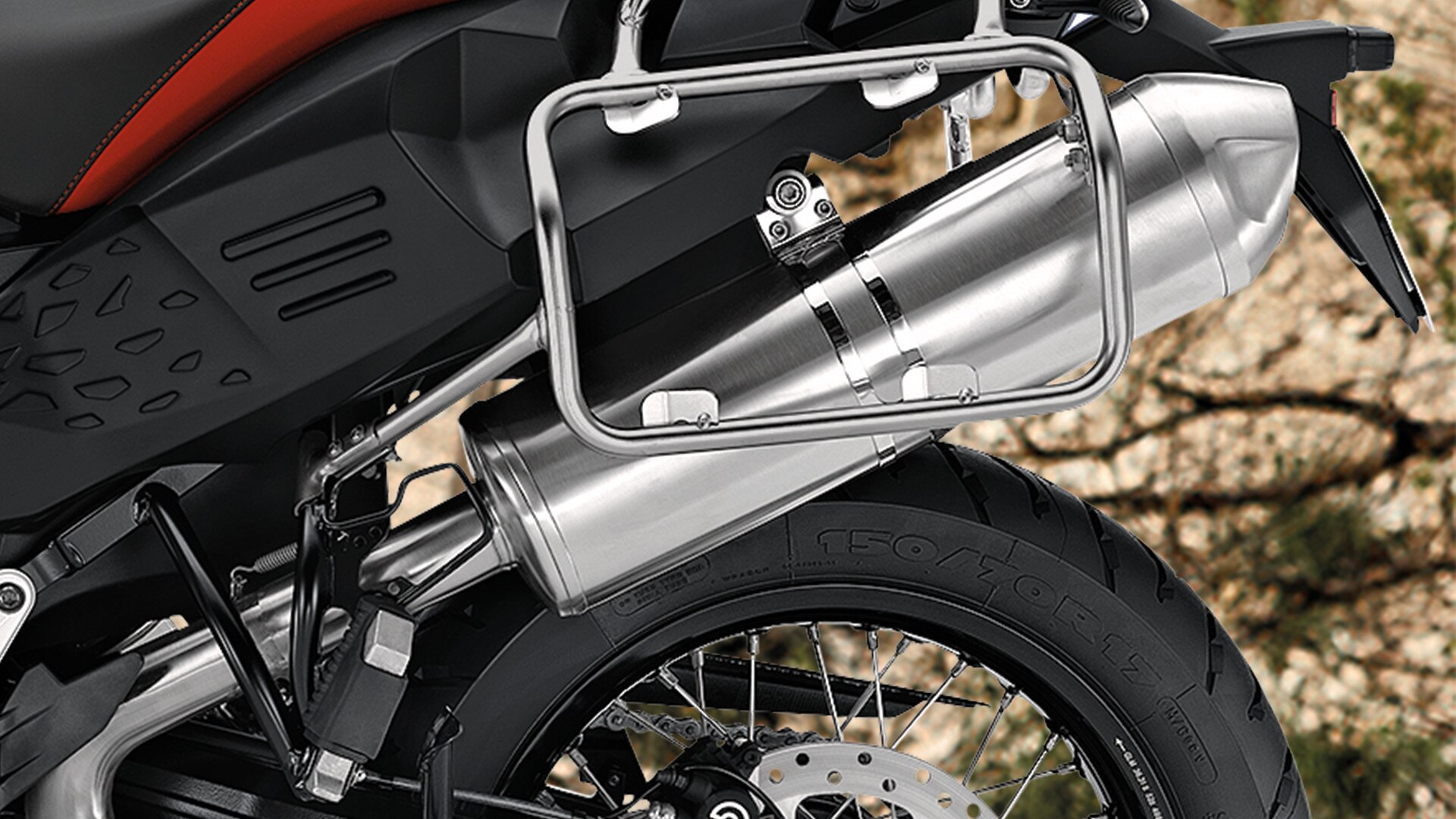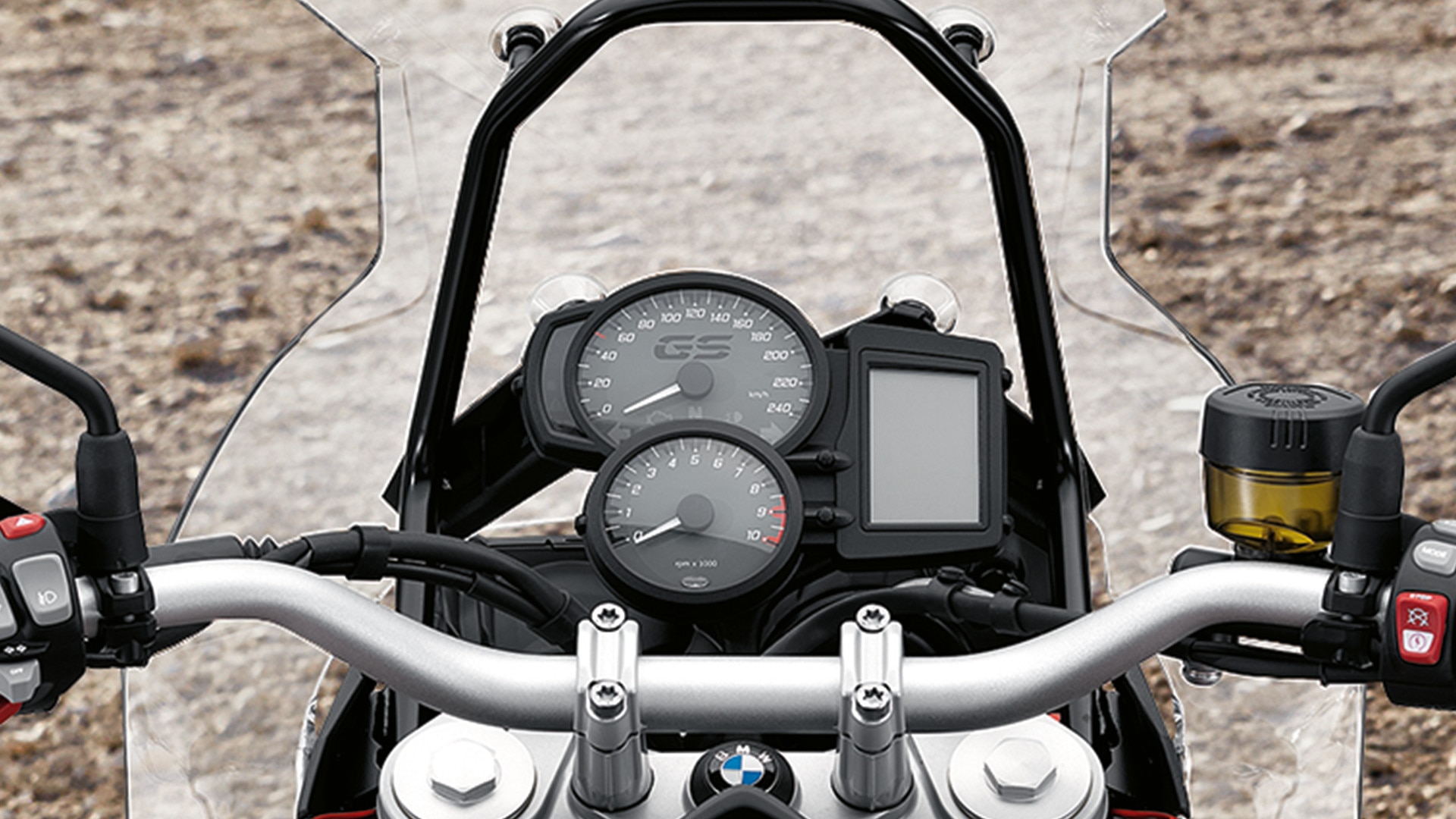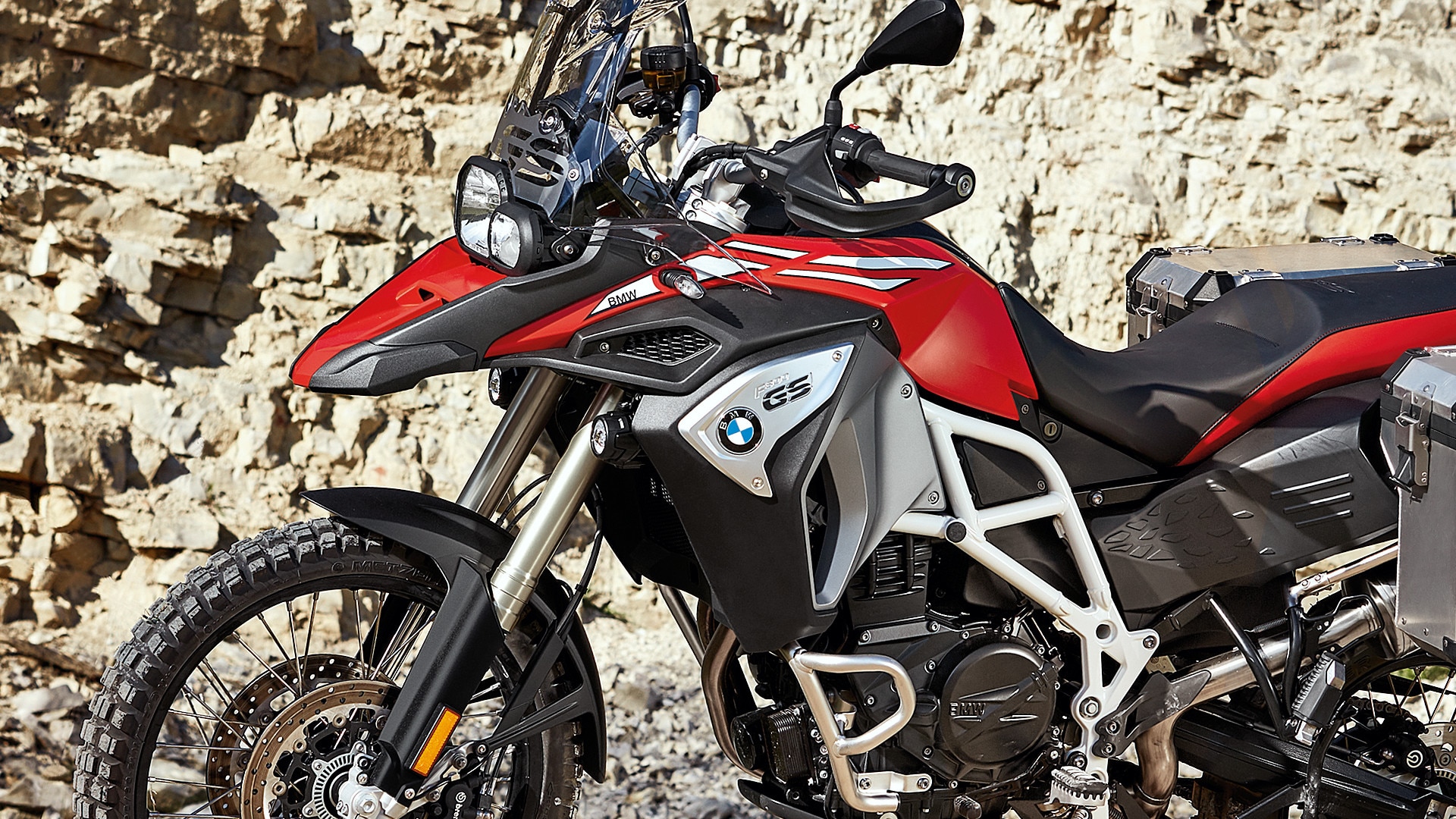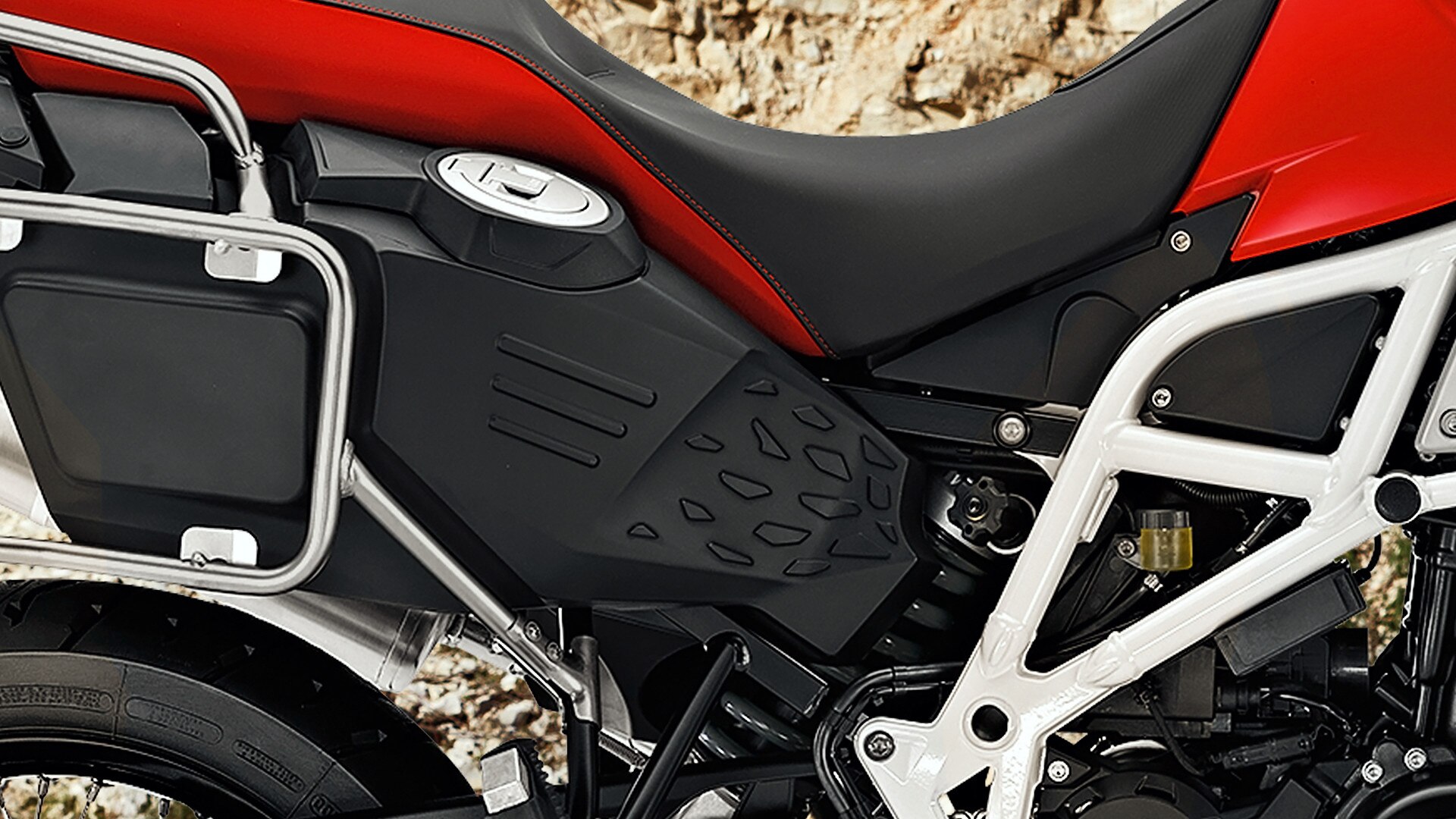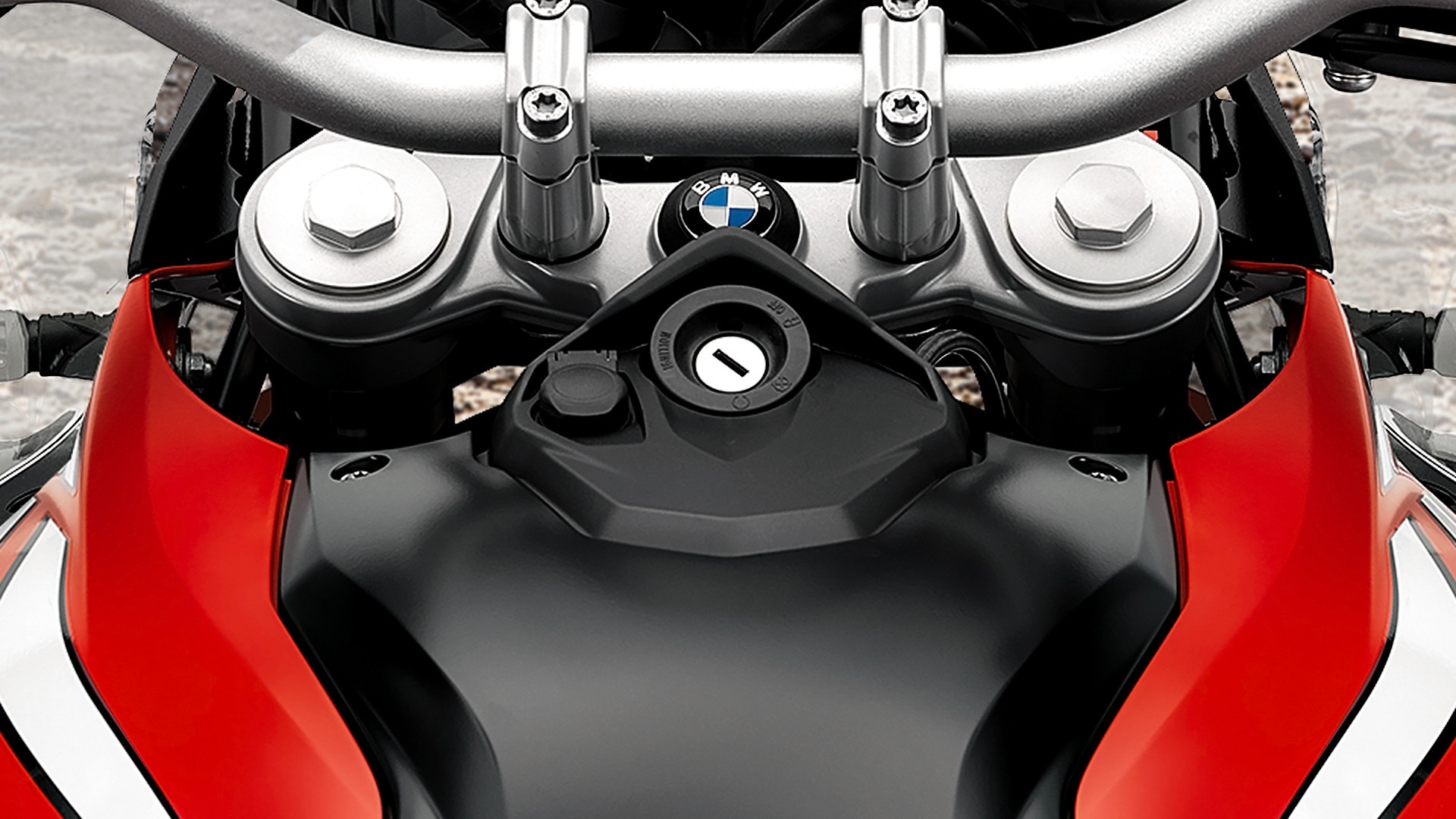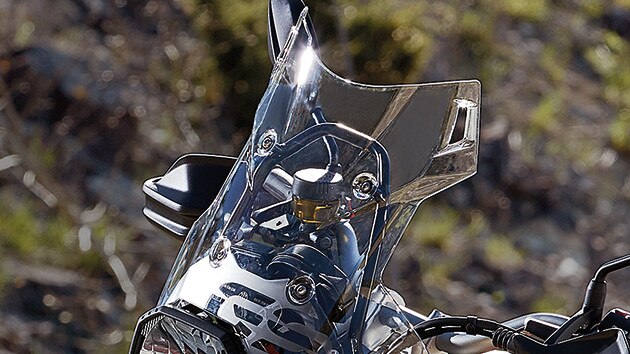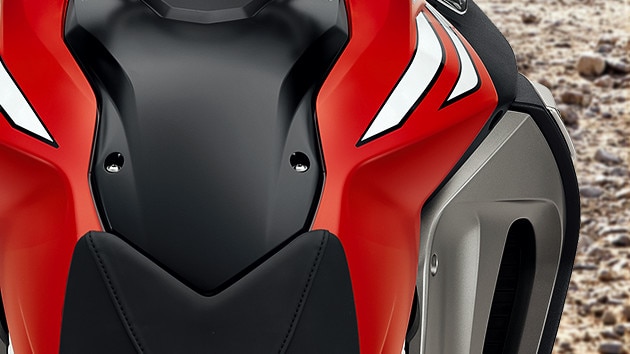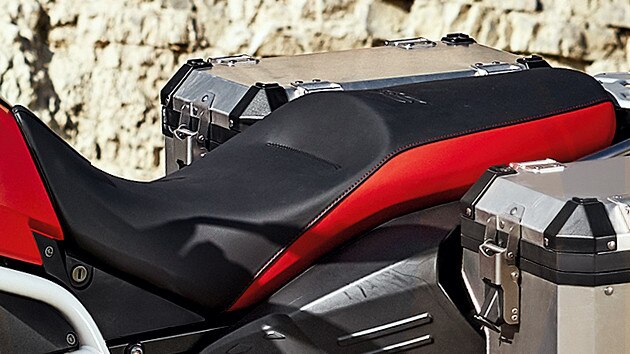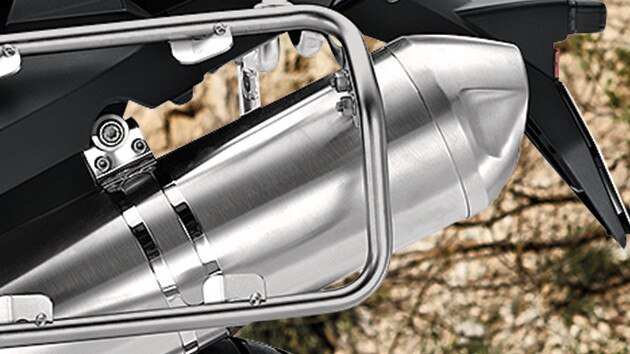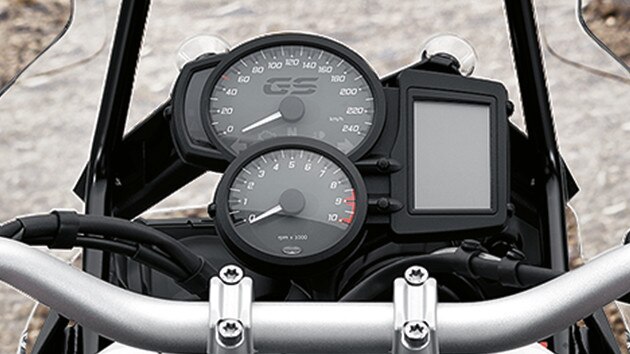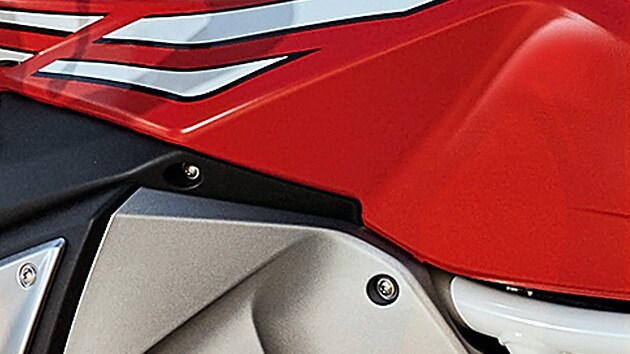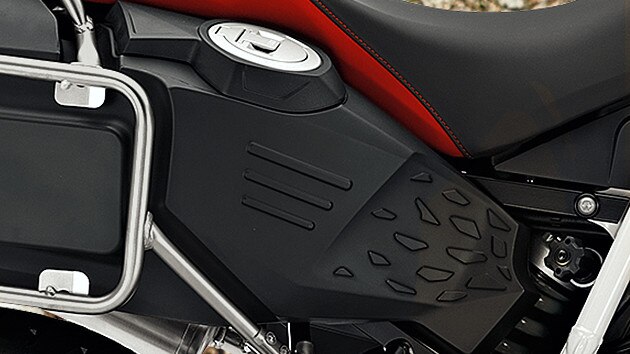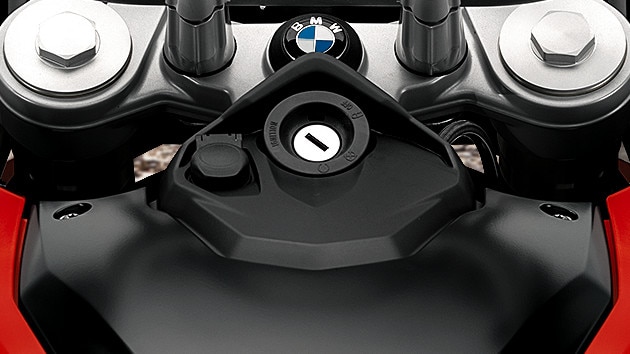 Control: unconditional.
Control: unconditional.
From sand dunes, mountain passes to river crossings, the F 800 GS Adventure masters every task it is faced with on its far-flung travels. A warp-resistant tubular spaceframe made of steel forms its centrepiece. You have 230 mm of spring travel at the front and 215 mm at the rear. Countless systems are there to provide electronic assistance. ABS is on board as standard of course. As a rider, you also have two riding modes "rain" and "road" to choose from as standard. You can get more assistance with the two optional riding modes "Enduro" and "Enduro Pro". You have the right setup and ABS/ASC settings at your fingertips for every riding situation and surface.
+ Read more
BMW Motorrad ABS as standard.

The classic BMW Motorrad ABS comes as standard with this series. Regardless of whether you're a novice or an experienced rider, this safety feature makes braking easier and safer in the wet, in emergency situations, when you're riding with a passenger and when you're carrying luggage – basically, in any conditions. This gives the rider the optimum stopping distance at all times without the risk of falling due to the wheels locking. For offroad use, the ABS can simply be switched off.

ASC as optional equipment.

The optional ASC traction control (Automatic Stability Control) also increases safety. Depending on the road conditions, it limits the drive torque of the engine, thereby significantly increasing active driving safety in borderline situations. The system can of course be switched off for off-road use.

Electric throttle as standard.

Via an electric throttle system, the rider's request is now passed on directly by a sensor on the throttle grip to the engine control and in turn the throttle valve. Resulting in once again improved controllability and response characteristics for even more control.

Riding modes "rain" and "road" as standard.

The "rain" mode allows a soft throttle response is. The ABS control is set for road operation and the automatic stability control ASC is configured for road operation with a low friction coefficient. In "road" mode, the throttle response is optimised, the ABS configured for road operation and the ASC for a high friction coefficient.

Pro riding modes with "Enduro" and "Enduro Pro" as special equipment.

A soft throttle response characterises the "Enduro" mode. In addition, the control characteristics of ABS and the automatic stability control ASC are configured for light offroad use with road tyres. As a dedicated offroad rider, you can also take the "Enduro Pro" mode, which offers optimised throttle response with ABS and ASC regulation configured for operation with offroad tyres. For even more control when offroad. What is more, the rear wheel ABS is deactivated in this mode, allowing you to perform flawless braking drifts.
Aiming High with Squash Falconer
Boundless.
Riding, climbing and flying with Squash Falconer.
As Isaac Newton, the discoverer of gravity, once observed: "What goes up must come down". But what goes up doesn't always have to come down in the same way. The British adventurer Squash Falconer rode a motorcycle to Mont Blanc, climbed to the top and paraglided from the summit. It's as if she was trying to show the world that no mountain is steep enough to keep her from her dreams.
She had long been attracted to the mountain, the snow king, sitting on its majestic throne in the French Alps. During a ski trip to Les Arces at the age of 18, the petite British woman Squash Falconer, was absolutely fascinated by Mont Blanc, the highest mountain in the Alps. "I can still remember being so impressed by the mountain, even from far way", says the 35-year-old, her eyes lighting up. "I remember thinking it would be cool to climb it one day". Years later she completed the expedition that would involve more extreme endurance than merely climbing to the 4,810-metre summit.
Read more